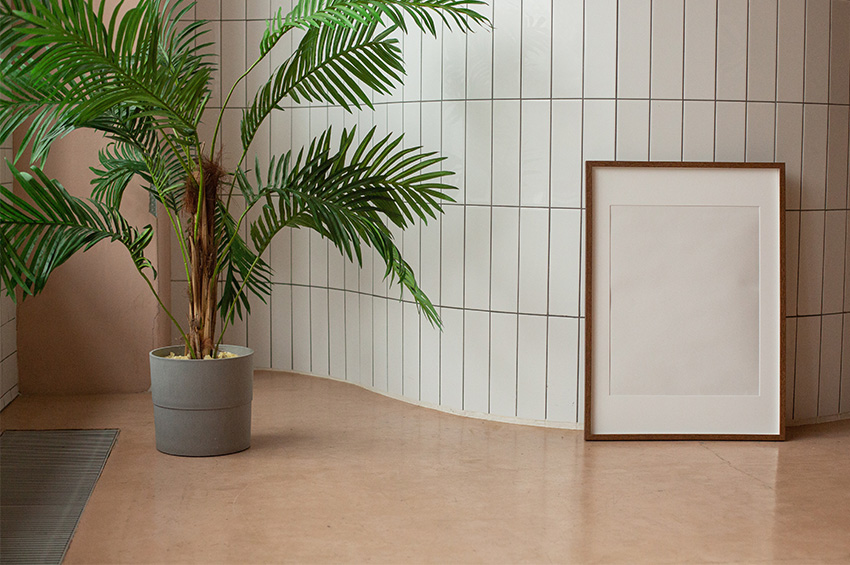 4 Things You Need to Consider Before Choosing Tile Flooring
Earth-sourced tile is a high-end flooring material with timeless appeal. With proper maintenance, it can hold up for an entire century—a lifespan only rivaled by solid hardwood flooring.
Thinking about installing tile in your home? There are a few things to consider first. With over 40 years of industry experience, the experts at our Portland flooring company are here to provide all the insight and guidance you need.
How to Choose a Tile Floor That's Right for You
When selecting flooring for your home, you'll want to consider the different materials, maintenance requirements, water resistance, and overall durability.
1) Get to Know the Different Floor Tile Materials
It's easy to presume tile is tile, yet there are more varieties than you may think. The most common include natural stone, ceramic, and porcelain, along with synthetic alternatives like vinyl and laminate.
Natural Stone
Natural stone is inherently heavy and on the pricier end for flooring products. Having said that, the time-tested material is endlessly elegant, lasts a lifetime, and can even increase your home value. Variations include limestone, slate, marble, granite, sandstone, and onyx.
Read our blog to learn How to Choose the Best Stone Tile Flooring for Your Portland Home.
Porcelain
Porcelain contains a mixture of clay, finely ground sand, and feldspar minerals. While you might associate porcelain with delicate dolls or dishware, the material is exceptionally durable. It holds up remarkably well in wet environments, freezing temps, and high-traffic areas.
Ceramic
Ceramic is made out of kiln-fired clay. This type of tile is similar to porcelain, only not quite as dense and thus not as durable or resistant to water damage.
Synthetic Tile
If you're open to a synthetic material, you might consider LVT (luxury vinyl tile) or laminate. These floor-covering products are more affordable than their earth-derived counterparts and can look virtually identical.
LVT and laminate are often waterproof, pet-friendly, and long-lasting. What's more, the pieces click into place and can be installed over your existing flooring.
Is Vinyl Tile Flooring Better Than Ceramic Tile? Read our blog to find out.
2) Consider Maintenance, Water Resistance, and Slip Resistance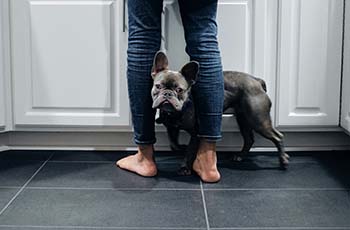 All types of tile are relatively easy to maintain and unlikely to stain. Still, you're wise to go over the care requirements before committing to a material.
Depending on where you install it, you'll also want to think about water resistance and whether the surface is slippery when wet. So, what type of floor tiles are best for kitchens, bathrooms, mudrooms, and other moisture-prone zones?
We recommend waterproof vinyl, laminate, stone, or porcelain. With natural materials, an unglazed finish will offer the most slip resistance.
3) Consider Tile Flooring Durability and Foot Traffic
As mentioned, earth-sourced tile flooring can last 100 years or more. Synthetic alternatives are more budget-friendly, but their lifespan is closer to 30 or 40 years. Though all tile materials are notably durable, we suggest porcelain, stone, luxury vinyl, or laminate for high-traffic areas.
The right rug can help protect your tile floors while absorbing sound and creating a warmer, softer feel underfoot. Take a look at our Guide to Area Rug Types and Materials for insight.
4) Consider Size, Shape, Pattern, and Placement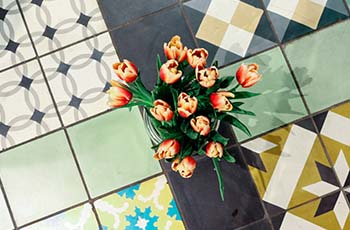 Once you've decided on a material, you can focus on the fun part: design. Flooring tiles come in countless sizes, shapes, and styles. There are classic squares and rectangular pieces, which look chic in a straight-lay, subway, or herringbone pattern.
Then you've got more unique shapes, like diamonds, circles, pinwheels, hexagons, arabesques, and mermaid scales. Beyond that, tiles can be printed with intricate designs or laid in a mosaic pattern. The possibilities are truly endless.
Visit Portland's Best Tile Flooring Store Today
Here at Floor Factors, we're big fans of tile—and not just for flooring. We work on projects throughout the metro area that call for tile backsplashes, countertops, showers, bathtubs, you name it.
Floor Factors partners with the most trusted manufacturers in the industry. This includes several locally owned brands like UnitedTile, Daltile, Intrepid, and Pental.
Need countertops, cabinets, or window treatments to complete your home makeover? Check out the selection of home renovation products we carry at Floor Factors.
Our one-stop-shop Portland flooring company offers in-house design consulting, along with custom ordering assistance for DIYers, contractors, and interior designers. If you order products from us, we can assist with demolition and installation.
Stop by our showroom or contact us for a free estimate!