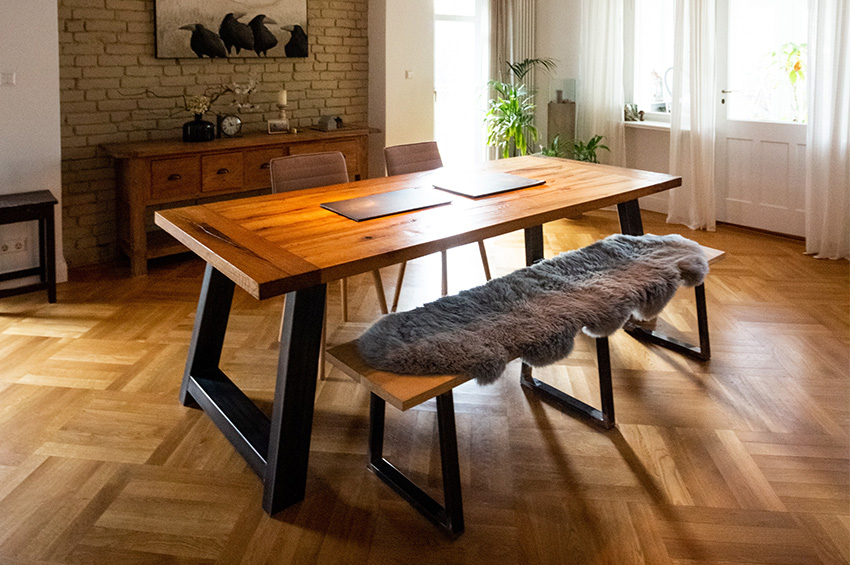 How to Pick Hardwood Flooring to Match Your Design Style
Various flooring materials have had their moments over the years, but one in particular has stood the test of time: hardwood. While wood planks are timeless and versatile, they're not all created equal.
So what species, finish, or grain pattern should you get? Our Portland hardwood flooring experts are here to help you find an option that complements not only your design style but also your lifestyle.
Hardwood Flooring Options to Match the Style of Rooms
When it comes to interior design, flooring often sets the stage for the rest of the decor. However, if you're replacing your current floors or are looking for something to align with your existing furnishings, you'll want to choose your hardwoods carefully.
Consider the following popular home design styles when browsing options.
Modern
Modern interior design combines clean lines with subtle curves while embracing a neutral color palette. If this is your style, choose pale-colored hardwoods, such as oak or bamboo, with a matte or slightly cool-toned finish.
Traditional
Inspired by 19th-century decor, traditional design features neoclassical furnishings and elegant, refined details. If your home style leans traditional, go with a deeper wood species, like walnut or mahogany.
Coastal
Then there's coastal design, which features wicker, wood, and natural fabrics, along with whites, blues, and soft grays. To lean into this easy-breezy vibe, opt for light wood floors, such as oak or poplar, potentially with a white-washed finish.
Farmhouse/Rustic
Though ​farmhouse and rustic interior design aren't exactly the same, they both incorporate natural elements and unfinished details. For this style, consider hardwoods with a knotty grain pattern and a faux-weathered finish.
8 Portland Hardwood Flooring Design Tips
Now that you have an idea of which hardwoods complement different decor styles best, let's go over a few basics of choosing a flooring material.
1. Brush Up on the Different Types of Wood Flooring
First, you should have a rough idea of the different types of wood flooring. There are unfinished solid planks, along with prefinished and engineered options.
Then you've got synthetic alternatives, including luxury vinyl planks (LVP) and laminate – and even cork (an eco-friendly alternative)! They look almost identical to the real thing, come at a lower price, and are most often waterproof.
2. Know Your Species
Next, review the various wood species. Oak is the most common and comes in light, medium, and dark shades. Other options include walnut, mahogany, cherry, fir, ash, poplar, birch, maple, and teak—to name a few.
Consider Durable, Strand-Woven Bamboo Flooring
Bamboo isn't technically wood, though it looks very similar and is a natural, earth-grown product. This type of flooring is versatile, water-resistant, relatively low-maintenance, and typically more affordable than traditional hardwood. Since the crops regrow remarkably fast, it's also considered a sustainable material.
3. Don't Overlook Undertones
While species and shades are critical, one of the most important considerations is undertone, the hue below the surface that affects a material's overall appearance. The three undertones include cool (hints of blue and gray), warm (hints of red and gold), and neutral, which is somewhere in the middle.
Check out the range of colors from our manufacturing partners, Craft Floors and Allwood, for inspiration.
5. Get to Know Grain Patterns
Hardwoods also come with different grain patterns, which are either fabricated or determined by how the lumber is cut. Think knots, curls, rings, waves, twists, and straight or diagonal lines. Some wood planks have virtually unnoticeable grain patterns, for those who prefer simpler designs.
Our partners at Anderson Tuftex, Boen, and Shaw Floors offer an excellent range of hardwood grain patterns.
6. Consider the Finish
You can choose from various finishes too. In addition to satin, matte, and gloss, there's oil-based, waxed, hand-scraped, wire-brushed, and distressed. As mentioned, you can get hardwoods stained with a cool or warm finish that doesn't necessarily affect the shade.
7. Complement Your Other Furnishings
Hardwoods often last much longer than sofas, chairs, and lamps. However, if you're replacing your floors and keeping the rest of your furnishings, look for a flooring option that complements the color scheme, undertones, and overall style of your existing decor.
8. Choose a Rug
If you ask us, hardwoods aren't complete without an area rug. Floor Factors carries tons of prefabricated rugs, as well as custom designs in virtually any size, color, pattern, or material.
Check out our Guide to Area Rug Types and Materials for more insight.
Where to Buy Hardwood Flooring in Portland, Oregon
Floor Factors is Portland's premier flooring store, offering top-tier products for over 40 years. We're proud to partner with the best hardwood manufacturers in the industry to provide high-quality, custom materials for homeowners throughout the metro area.
Did you know Floor Factors offers custom cabinets, countertops, and window treatments? Take a look at our broad product selection before diving into your next renovation project.
Contact Floor Factors for a free estimate, or head over to our one-stop-shop showroom in the Pearl District to see our vast selection for yourself.