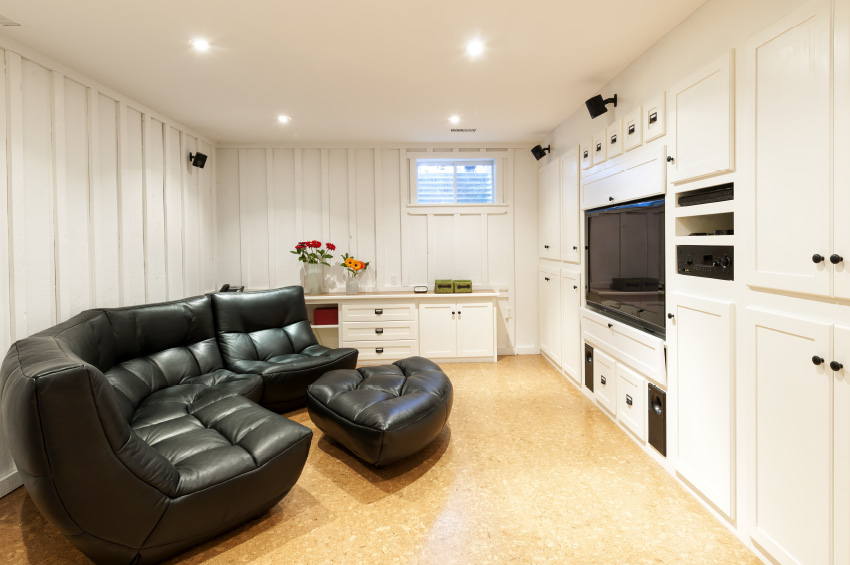 Are Cork Floors Waterproof?
Waterproof flooring is having a much-deserved moment. Moisture is one of the primary culprits of damage, and understandably, homeowners don't want to worry about every splash, drip, and spill.
However, most waterproof types of flooring are synthetic, which may be a dealbreaker if you prioritize natural and renewable materials. But, what if we said you can have the best of both worlds?
Enter: Amorim Wise cork flooring. The naturally sourced material is sustainable, biodegradable, recyclable, and thanks to Amorim, completely waterproof.
Amorim Waterproof Cork Flooring: What to Know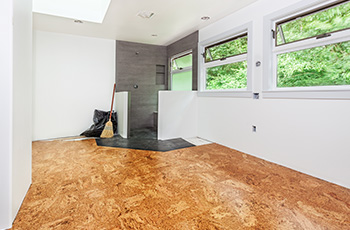 There's a lot to love about cork! It's affordable, versatile, low-maintenance, durable, and comfy underfoot. If that's not enough, it's now available in waterproof planks and tiles.
Amorim Wise is an environmentally friendly choice with virtually endless design possibilities. Those who prefer renewable, earth-sourced materials – and want all the benefits of waterproof flooring – will love Amorim products.
Cork Inspire 700
Amorim's Cork Inspire 700 line consists of floating planks and tiles available in an impressive color range with an HRT (high-resistance technology) finish. Since the material stands up to moisture damage, it's a suitable choice for kitchens, bathrooms, and mudrooms.
Cork Pure Floor & Wall
As its name suggests, the Pure Floor & Wall collection can be used as both flooring and a wall-covering solution. There are many designs to choose from, but this line is great for those who want to create an unfinished, industrial effect with faux cement walls.
Another option is to use stone-like cork tiles on your bathroom floor or walls. Whichever route you take, you can count on ample sound absorption and insulation.
Cork Pure Signature Floor & Wall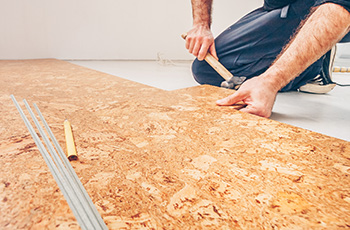 Then there's the Pure Signature Floor & Wall line. Similar to the Floor & Wall collection, you can use the glue-down tiles to accent your home, create a floor-to-ceiling effect, or design a faux stone wall. The Signature line takes it a step further, allowing clients to customize their tiles or planks with nearly any hue, texture, veneer, and finish.
Cork Origem Capsule Collection
Amorium's Origem Capsule Collection encapsulates the spirit of Montado, a cork forest in Portugal with a delicate ecosystem. Featuring vibrant greens, rich browns, reddish tones, and golden hues, this flooring line celebrates the natural world.
Other Waterproof Flooring Materials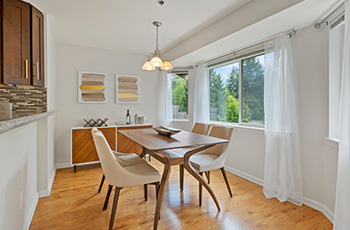 Cork flooring is incredibly versatile and easy on the environment, plus you can install waterproof tiles anywhere in your home. There are also several other options to choose from.
If you appreciate the look of hardwoods but want a more affordable, waterproof flooring option, you'll love Amorim Wise Wood. From beachy white-washed and rustic barnwood finishes to knotted oak and smooth wood grains, there's something for every home, budget, and taste.
Waterproof luxury vinyl is long-lasting, more affordable than real hardwood, and boasts a realistic finish and texture. Then there's laminate, which can mimic almost any wood or stone and is water-resistant if not fully waterproof.
How does waterproof cork compare to these synthetic products? Read our blog, New Cork Flooring Has All the Benefits of Luxury Vinyl Tile, to find out.
Where to Buy the Best Waterproof Cork Flooring
If you're feeling inspired by these innovative, earth-inspired designs, you've come to the right place. Floor Factors partners with top manufacturers in the industry, including Amorim Wise, and can assist with a custom order for your space.
Our in-house design consultants can lend a hand if you're stuck on which color or style will work best for your home. Plus, when you order from our locally owned Portland flooring company, we can also take care of demolition and installation.
Are you designing your kitchen or bathroom from the ground up? In addition to flooring products, Floor Factors is also Portland's go-to resource for cabinets, countertops, and window treatments.
Get in touch with us for a free estimate, or stop by our massive showroom in Northwest Portland to see and feel samples in person.