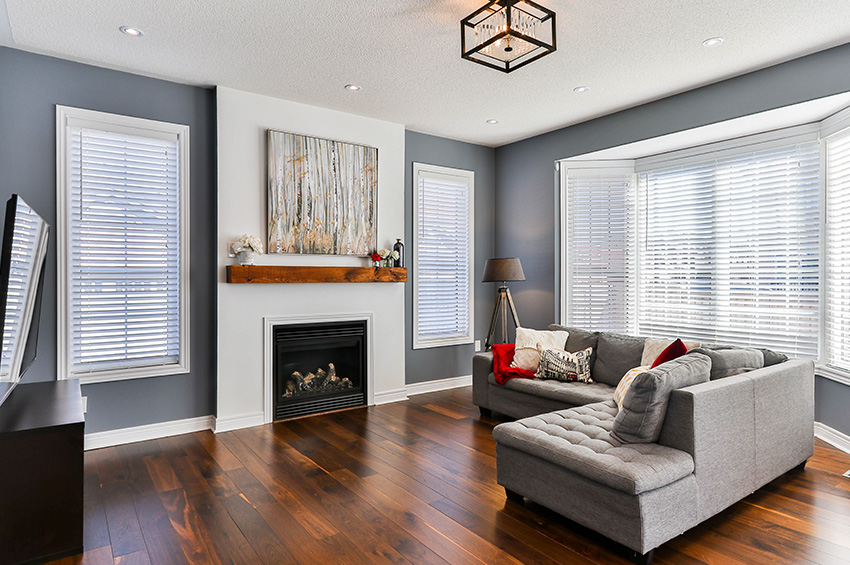 Before & After Home Flooring Remodels Featuring Luxury Vinyl Tile (LVT)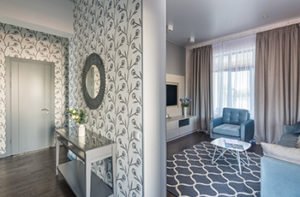 Our Portland flooring company is seeing an uptick in luxury vinyl for residential renovations. Unlike yesteryear's sheet vinyl, the modern material is available in planks (LVP) and tiles (LVT). It boasts a realistic-looking finish that mimics real wood, stone, and porcelain at a fraction of the price.
Who doesn't love a good before-and-after remodel story? If you're on the fence about vinyl flooring, these home makeovers might sway you to take the next step.
Vinyl Flooring Before and After Photos You'll Love
Need some inspiration for your next home remodeling project? We rounded up the best flooring before-and-after photos from projects featuring luxury vinyl. Check them out below.
Remastered Master Bath
This primary bath renovation replaced 80s-era carpet with faux hardwood vinyl planks. Real wood isn't usually recommended in bathrooms since the material can warp, shrink, or rot when it gets wet. However, waterproof LVP allows you to get the look without worrying about damage.
Cool-Toned Kitchen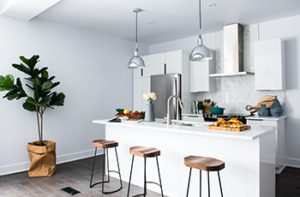 Luxury vinyl planks are also an excellent choice for kitchens, as the material holds up under decades of splashing, drips, leaks, and spills. As showcased in this remodel, wood-like planks with a cool-toned finish help brighten up a kitchen while offering a casually elegant appeal.
We love cool-toned flooring for its modern aesthetic, like the gray-wash LVP used in this basement bar. Also, luxury vinyl is ideal for basements, as the waterproof material likely won't have to be replaced in the face of leaks or heavy humidity.
Faux Stone in the Kitchen
Natural stone tile is long-lasting, incredibly durable, and undeniably beautiful. It's also notably heavy and among the most expensive flooring options, which is why many homeowners are using LVT instead. Take a peek at the before-and-afters of this remodel for inspiration on how to use faux stone in the kitchen.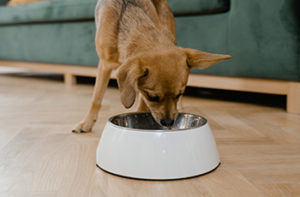 Pet-Resistant Planks in the Living Room
Got pets? LVP might be the way to go. The before-and-after photos of this living room remodel show how pup-damaged carpet was replaced with durable, scratch-resistant vinyl planks. Some LVP manufacturers offer warranty coverage against both water and pet damage.
Water-Resistant Entryway
Whether you need a floor-covering material for your entryway, mudroom, or foyer, water-resistance is key—especially in the rainy Pacific Northwest. In this home remodel, the owners replaced builder-grade tile with waterproof vinyl in the entryway and then extended it throughout the rest of the main floor.
Stop By Our Locally Owned Flooring Store in Portland, Oregon
As one of the best flooring companies in Portland, we carry high-quality products from top-rated manufacturers, including affordable luxury vinyl and discounted remnants left over from bigger projects.
We work with DIYers throughout the metro area, but if you'd rather leave it to a professional, we'd be happy to assist. When you purchase flooring from Floor Factors, you can also take advantage of our demolition and installation services. As your one-stop-shop remodeling resource, you can count on us for cabinets, countertops, and window treatments too.
Get in touch with our helpful team for a free estimate, or visit us in the pearl District to speak with one of our design consultants.