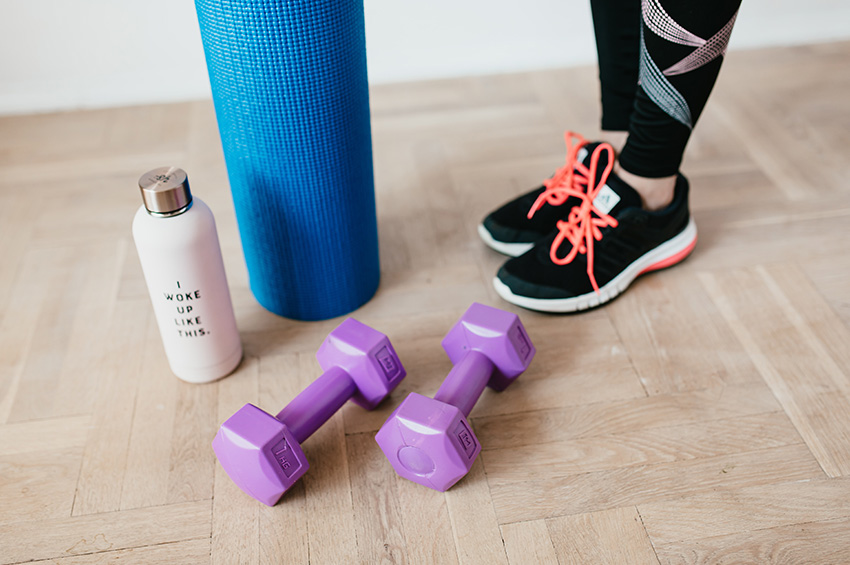 What is the Best Flooring for a Home Gym?
Exercising in your humble abode is undoubtedly convenient, saving you precious time by eliminating the need to commute to a gym or fitness studio. The modern home gym is a place folks go to workout to streaming yoga videos, participate in cycling classes, take part in virtual personal training sessions, and more.
Whatever your at-home fitness regime looks like, creating a designated space to sweat is crucial—and it starts with the floors. So, what's the best flooring for a home gym? We're here to help you figure out the best flooring fit for your fitness space.
The Best Home Gym Flooring: 5 Ideas
Of course, the best material for your gym depends on your workout of choice, what type of equipment you use, where the space is located in your home, and your budget. That said, the most popular workout room flooring options include cork, rubber tiles, carpet tiles, linoleum, and luxury vinyl. Here's what you should know.
1) Cork
Cork flooring is great for gyms for a few reasons. For one, the earth-sourced material is resistant to punctures and dents, reforming after heavy or sharp objects make their mark. In other words, dropping 10 pound dumbbells or placing a sizable stationary bike on your floor won't damage it.
It's also relatively soft with excellent shock absorbency—qualities you want when doing burpees, jumping jacks, and other plyometric moves. Cork is naturally resistant to mildew, mold, and bacteria growth. Plus, it provides ample sound absorption, so you can feel free to crank up your favorite workout tunes.
2) Rubber Tiles
You might also consider rubber flooring for your home gym. It can turn a rock-hard concrete basement or garage into a comfortable exercise room with shock absorbing floors.
Rubber tiles are super easy to install, too, as the interlocking pieces snap together—no glue, nails, or special skills needed. Not only that, but the floor-covering material is notably durable, insulating, and resistant to dents.
3) Carpet Tiles
Speaking of easy installation, carpet tiles are incredibly DIY-friendly, and they happen to be a prime pick for gyms. The pieces usually have a peel-off adhesive backing, so all you have to do is stick them to your subfloor. Best of all, you can just replace a single tile instead of your entire floor in the event of a tear or stain.
We recommend a low-pile weave for optimal traction. You might also want to place a carpet pad underneath for better shock absorption and enhanced overall comfort.
4) Linoleum
Made of linseed oil, wood flour, and rosins, linoleum is a natural floor covering option. The eco-friendly material is a top choice for home gyms, as it's durable and relatively soft underfoot.
Linoleum is also naturally antimicrobial, meaning it won't harbor sweaty odors and bacteria. The hygienic flooring product is low-maintenance, too, thanks to a protective coating that repels dirt, scuffs, and residue buildup.
5) Luxury Vinyl
There's much to appreciate about LVT (luxury vinyl tile), but is vinyl flooring good for gyms? As a matter of fact, the synthetic material is a stellar option for your at-home workout zone. While it doesn't offer as much shock absorption as other products, it's durable and scratch-resistant. (You can always get interlocking foam tiles to place on top if you want a little more cushioning.)
Modern vinyl is typically waterproof, meaning you can install it in basements and other moisture-prone areas. Plus, if you have a more upscale look in mind, you can get LVT that mimics natural stone tile or hardwood.
Where to Buy Flooring for Your Home Gym in Portland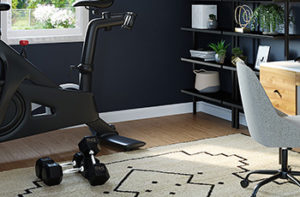 Floor Factors has been supplying high-quality products from top-tier manufacturers for upwards of 40 years. Our locally-owned Portland flooring store works with experienced DIYers, remodel novices, contractors, and everyone in between. If you need support with design or remodeling services, we're here to help.
We offer custom and prefabricated products in the materials listed above, as well as discounted remnants available at a fraction of the market rate. In addition to flooring materials, we carry an impressive selection of window treatments, cabinetry, and countertops with custom options available. Consider Floor Factors your one-stop-shop resource for all your residential renovation needs.
Request a free quote today, or head over to our location in the Pearl District to see and feel our offerings for yourself.