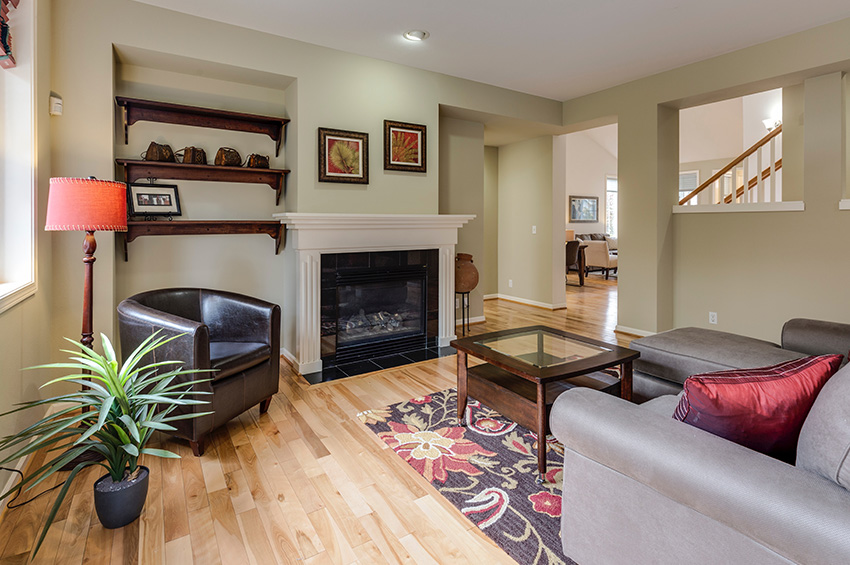 What are the Pros & Cons of Carpet vs Laminate Flooring?
Laminate and carpet are among the most popular home flooring choices. While they both work well in living rooms, family rooms, great rooms, bonus rooms, and bedrooms, they're distinctly different materials.
With so many materials, designs, and styles of flooring available, choosing one can feel overwhelming. If you're deciding between carpet and laminate, we're here to help you make an informed decision.
9 Things to Consider When Choosing Carpet or Laminate Flooring
Laminate is a synthetic product that can mimic a wide range of hard flooring materials, like hardwood planks, natural stone, and ceramic tile. Carpet, on the other hand, can be woven from natural or synthetic yarns.
Here's what to consider when choosing between the two.
1) Cost
Generally speaking, carpet is more affordable than laminate. However, both are considered budget-friendly flooring options, especially compared to hardwood, bamboo, and natural tile.
2) Lifespan
You can't really make a decision based on price without considering the lifespan of each material. With proper maintenance, laminate floors can last up to 25 years. Depending on the weave and type of yarn used, carpets usually last between five to 10 years.
3) Foot Traffic
Carpet is more susceptible to discoloration and wear-and-tear than laminate, particularly in high-traffic zones like family rooms, hallways, and stairs. For this reason, carpet is usually better suited for bedrooms, guest rooms, bonus rooms, and playrooms.
4) Pets
If you have fur babies at home, carpeted floors will offer a softer, comfier place for them to curl up. However, it's a lot easier to remove pet hair and dander from laminate. Also, some laminate is designed to resist scratching and other forms of pet damage.
5) Maintenance
Carpet isn't difficult to maintain, but it can be challenging to keep clean. Laminate is water-resistant (and sometimes completely waterproof), making it a breeze to maintain.
6) Allergies
Do you or your loved ones suffer from allergies? If so, laminate flooring may be the better option, as dust, pollen, dander, and pet hair are more difficult to remove from carpet. However, wool carpet is a terrific choice for people with allergies, as it repels bacteria.
7) Warmth
All floor-covering products provide a level of insulation—even hard materials like laminate. Having said that, carpet is undoubtedly the warmest, coziest choice.
8) Appearance
Carpet presents a plush, welcoming appearance, and it can look great in many rooms. However, laminate floors can go a long way in making a home appear updated—whether you opt for faux wood planks, porcelain-inspired tile, or something in between.
Water-resistant laminate can be installed in kitchens and bathrooms. This is a big plus for those wanting to achieve a seamless look by using the same floor-covering material throughout the home.
9) Installation
If you're going the DIY route, you'll probably have an easier time installing laminate planks or tiles than laying carpet. The individual pieces typically snap together through a tongue-and-groove system, which makes for a pretty straightforward process.
Is Laminate Flooring Better than Carpet?
Many of today's homeowners opt for laminate flooring, as the material provides an excellent bang for the buck. However, the myriad choices of carpet styles, colors, and designs available today are impressive, to say the least.
Pros of Carpet
Soft and plush underfoot

Warm and cozy

Sound-absorbent and insulating

Budget-friendly

Available in various materials, weaves, and colors
Cons of Carpet
Prone to stains and discoloration

Must be replaced every five to 10 years

Not suitable for certain rooms
Pros of Laminate
Budget-friendly

Low-maintenance

Doesn't harbor allergens

Water resistant

Easy to install

Lasts up to 25 years

Can simulate natural flooring materials

Suitable for virtually every room
Cons of Laminate
Not as warm or insulating as carpet

Costs more than carpet

Made from synthetic materials
Laminate and carpet both have their upsides and potential drawbacks, but in the end, the choice is entirely yours. (Our in-house design consultants can help, too!) Want the best of both worlds? Get a custom area rug to complement your hard surface flooring.
Where to Buy High-Quality Flooring, Carpet & Area Rugs in Portland
Here at Floor Factors, we're proud to be a one-stop destination for home renovations. Our Portland flooring company carries a variety of materials, including laminate and carpet from the industry's top manufacturers, plus discounted remnants for smaller spaces. Not only that, but we offer prefabricated and custom area rugs in every size, shape, and material you can imagine.
If you need personalized remodeling guidance, our in-house design consultants are at your service. For those who'd rather not DIY, Floor Factors can also assist with expert demolition and installation.
Request a free estimate or stop by our showroom in the Pearl District.