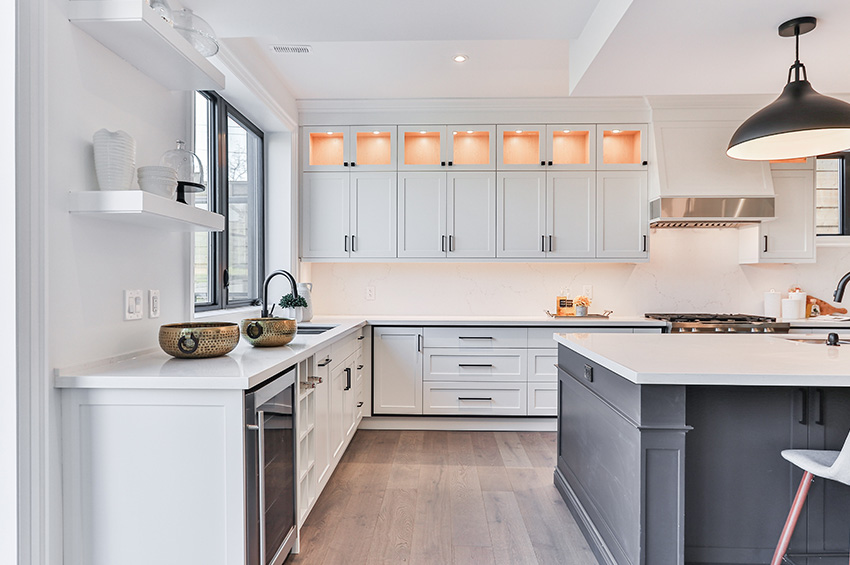 Is Luxury Vinyl Tile an Alternative to Hardwood Flooring?
Authentic hardwoods will likely never go out of style. The long-lasting flooring product transcends interior design trends and decor styles with timeless beauty and high-end appeal. Having said that, it's not for everyone, every room, or every budget.
If you're looking for an alternative to hardwood, our Portland flooring experts are here to guide the way. Keep scrolling for a rundown of budget-friendly flooring options that look just as good as the real thing.
What Is the Best Alternative to Hardwood Floors?
Luxury vinyl flooring is often suggested as the best alternative to hardwoods. Unlike the sheet variety, it offers a convincingly realistic appearance that effectively mimics natural products.
There are two main types of luxury vinyl flooring: luxury vinyl tile (LVT) and luxury vinyl plank (LVP). LVT typically comes in squares—though you can get tiles in virtually any shape—and can be manufactured to look like real stone, ceramic, or marble.
When it comes to wood-like flooring options, homeowners often opt for LVP, as the planks offer an uncanny resemblance to solid wood boards. Classic oak, two-toned hickory, grainy ash, knotty pine—you name it, LVP can imitate it.
Luxury vinyl flooring is an excellent choice because the material:
Can look like real wood

Is more affordable than hardwoods

Can last for 50 years or more

Resists scratches, dents, and fading

Is low-maintenance and easy to clean

Is easy to install
LVP flooring has a lot going for it. While many people used to claim they could tell the difference between real and faux hardwoods, this is becoming harder and harder to do. Luxury vinyl is not only printed with digital imaging of authentic wood planks but also boasts a textured surface that mimics the feel of actual wood grain.
What's more, it can be installed in more water-prone areas where solid and engineered wood aren't recommended. Want the look of real wood in your kitchen or bathrooms? You won't have to worry about splashing, leaks, or humidity with this superstar floor covering.
Other Budget-Friendly Alternatives to Hardwood
Luxury vinyl isn't the only wallet-friendly alternative to real wood flooring. You might also consider laminate, cork, or bamboo.
Laminate
Laminate is similar to LVP in that it's a synthetic, moisture-resistant flooring product that can bear an impressive resemblance to solid hardwoods. It used to be that vinyl was the only waterproof option of the two, but many laminate manufacturers now offer waterproof lines as well.
Cork
If you want a natural product, consider cork. The renewable, eco-friendly flooring material is insulating, sound absorbent, and comfy underfoot. Plus, it can be installed almost anywhere in your home and designed to look like real wood planks or natural stone tiles.
Bamboo
Bamboo isn't technically wood, but it does look and act a lot like wood. Since the material grows exceptionally fast, it's considered a sustainable product. Not only that, but naturally elegant bamboo floors are substantially more affordable than solid hardwoods.
Where to Buy Low-Cost Alternatives to Hardwood Flooring in Portland, Oregon
Looking for budget-friendly flooring that doesn't look like an inferior alternative to the real deal? You're in good hands with Floor Factors. Our Portland flooring company has been serving the Rose City and the surrounding areas for over 40 years with high-quality remodeling products and trusted guidance. From luxury vinyl and laminate to cork, bamboo, and engineered wood, we have it all.
As a one-stop-shop renovation destination for homeowners, we offer much more than affordable flooring from the top manufacturers. Floor Factors also carries window coverings, countertops, and custom cabinets for every budget. We support DIYers and contractors, but if you need help with installation, we can take care of that too.
Our locally owned flooring store is conveniently located in the Pearl District staffed with expert in-house design consultants. Contact us for a free quote on materials and installation, or stop by our showroom to see our products in person.