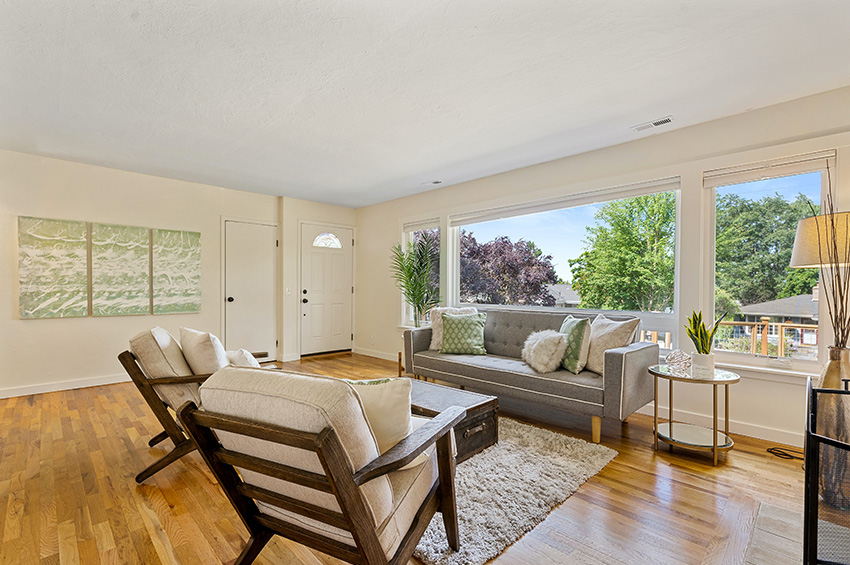 6 Flooring Design Tips to Make Small Rooms Seem Bigger
Ample square footage is a priority for many homeowners. While additional space is often the goal, sometimes it's more about making a home feel bigger. One of the best ways to achieve this is with flooring, and the experts at our Portland flooring company are here to guide the way.
How to Make a Room Look Bigger with Flooring
Interior design is about more than aesthetics. Regardless of actual square footage, it can create the illusion of a smaller or larger space. If you're striving for the latter, natural lighting, long curtains, large mirrors, and appropriately sized furniture can go a long way. However, the first place to start is your floors. Read on to learn how to make a small room look bigger with the right flooring.
Parallel Planks
The direction you install your flooring makes an immense impact on the flow and spatial feel of a room. We recommend placing the planks parallel to the widest wall. This will create an elongated look by drawing attention to the longest portion of the space.
Diagonal Installation
You might also consider diagonal installation or a herringbone pattern. Since the longest straight line in a room is technically a diagonal angle, this placement offers a lengthened, more vast appearance.
Wide Planks
Selecting wide floor planks is one of the easiest and most effective ways to make a room look bigger. Instead of thin strips, go for boards at least seven inches wide. Longer planks (four or more feet in length) can help as well.
Large Tiles
When it comes to tile flooring, the bigger the better. The individual squares should be at least 12 x 12 inches. With rectangular tiles, select an option that's 12 or more inches wide and at least 24 inches long.
Room-to-Room Consistency
Installing the same flooring in every room can make a small home feel larger while creating a seamless look. The key with this approach is choosing water-resistant floors, like luxury vinyl tile (LVT) or laminate. These materials can look just like authentic hardwoods, and they're designed to hold up in bathrooms, laundry rooms, kitchens, and other areas prone to splashing, leaks, and humidity.
Area Rugs
A common misconception about area rugs is that they make rooms look smaller. However, as long as you pick the right size, shape, and color, the opposite is true. We recommend placing a rug in the middle of a room, leaving a couple feet of exposed floor on all sides. With a multi-purpose space like a great room, rugs can help you section off different areas, making the overall space feel more expansive.
What Color Flooring Makes a Room Look Larger?
Generally speaking, lighter hues lend to a bigger, brighter look. Luckily, pale-colored flooring is versatile and timeless, plus there are endless routes you can take. From cream-colored carpets and oversized sandstone tile to whitewashed oak planks and sophisticated bamboo, you can't go wrong with light floors.
Quality, Affordable Flooring in Portland, Oregon
As one of the best flooring stores in Portland, Oregon, Floor Factors offers high-quality renovation products from top manufacturers. Our impressive selection of materials includes hardwoods, natural stone, ceramic, bamboo laminate, vinyl, cork, linoleum, carpet, and area rugs.
Not only that, but we carry flooring care and maintenance products, as well as countertops, cabinets, and window coverings. We can take care of demolition and installation or get you started with a DIY project. Floor Factors also offers personalized design consulting services. Our experienced team can assess your needs and recommend affordable space-enhancing materials and styles for your home.
Contact us today or stop by our showroom in Portland's Pearl District to see what we have to offer.