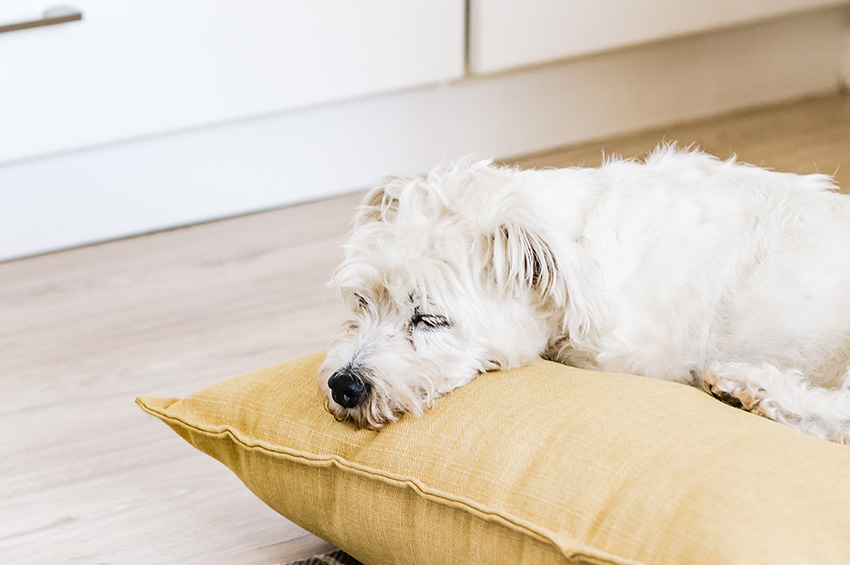 What Are the Pros and Cons of Laminate Flooring?
Laminate has been around since the late 70s, but the versatile flooring material isn't what it used to be. Today's iterations come in planks and tiles as well as the sheets it did in decades past. The synthetic product can also look convincingly like real wood and natural tile.
There's a lot to love about laminate flooring, but that doesn't necessarily mean it's right for everyone (or every room). Our Portland flooring experts are here to break down the pros and cons of the material.
The Pros
Laminate is made of fiberboard and resin with a moisture-resistant layer on the bottom. Featuring photographic imagery and often textures mimicking real hardwoods, the top layer is what makes it so realistic. Aesthetics isn't the only thing you'll love about it, though.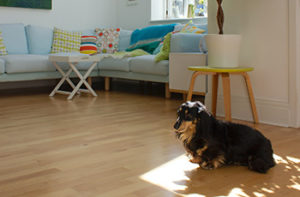 Laminate flooring pros:
Realistic appearance

Affordable alternative to real wood, stone, or ceramic

Available in a wide range of colors and styles

Easy to maintain

Resists scratches, dents, and moisture damage

Resists mold and other allergens

Pet-friendly

Great for high-traffic areas

Straightforward installation process

Suitable for most indoor spaces
Laminate planks are clicked into place instead of using a glue-down or nail-down method. This makes them easy to install and allows them to be placed over existing floors. Also, unlike solid and engineered hardwood, they never need to be refinished.
The Cons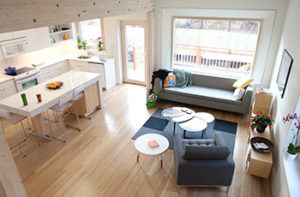 With all these advantages, you might be wondering if there's a catch. So, what's wrong with laminate flooring? The material doesn't have any major cons, but there are a few things to consider before installing it in your home.
Laminate is a

synthetic flooring product

.

It can't be sanded down or refinished.

It doesn't last as long as solid hardwoods, stone, or ceramic.
While the average lifespan of the product is shorter than some natural materials, it can actually be more durable than hardwoods. The scratch-resistant surface is designed to hold up for decades under heavy foot traffic.
Is There Waterproof Laminate Flooring?
As a water-resistant material, it can be installed in entryways, mudrooms, laundry rooms, kitchens, bathrooms, and basements. This means you can use it throughout your home or on an entire floor to achieve a seamless room-to-room look.
Some modern laminate is even waterproof, thanks to a special coating on the surface and around the edges of the planks. If you're interested in waterproof flooring, get in touch with us. We partner with the best manufacturers and can help you order a material that meets your needs.
Is Laminate Flooring Right For You?
Notably durable laminate is versatile and easy to install, but is it the right choice for your space? The answer, of course, depends on your budget, lifestyle, and taste. With that said, if you're open to a synthetic flooring material and want an affordable alternative to authentic wood or tile, laminate might be just the thing.
Visit Our Flooring Showroom in Portland, Oregon
Here at Floor Factors, we have everything you need to hit the reset button on your home design – including in-house design consultants. Our locally owned flooring company in Portland, Oregon carries high-quality laminate, plus luxury vinyl, unfinished hardwoods, and prefinished engineered wood. We can take care of demolition and installation, but if you want to go the DIY route, we have supplies that can get you started.
As a one-stop-shop destination, Floor Factors also offers custom window coverings, countertops, and cabinets from top manufacturers across the country. Contact us for a free estimate or stop by our showroom in Northwest Portland to see and feel our materials in person.