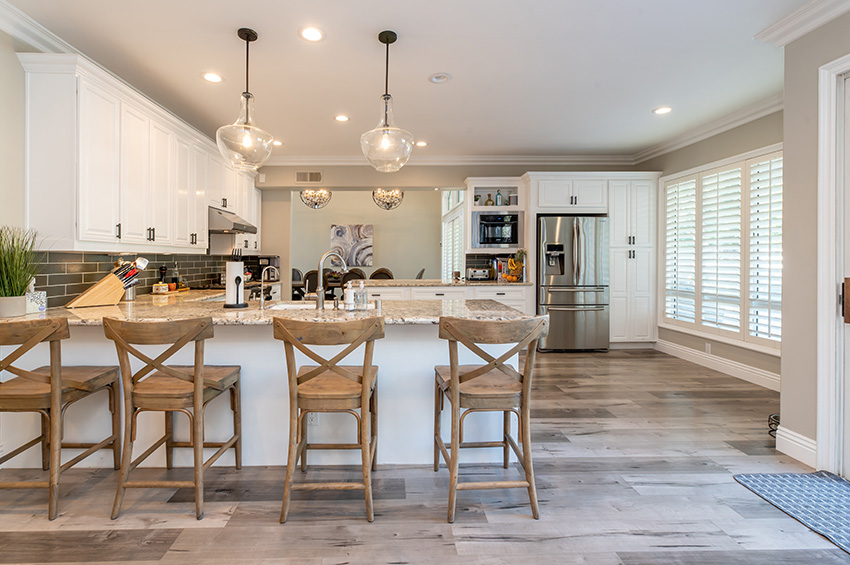 What are the Pros & Cons of Wood Floors in a Kitchen?
There's no denying the timeless beauty and unbeatable quality of hardwood floors. Solid wood planks can be refinished several times, often lasting for almost a century. Also, they provide the most resale value for homes.
However, while the flooring material has many benefits, it's not necessarily the best choice for every room—particularly moisture-prone areas like kitchens.
Pros of solid wood floors in a kitchen:
Beautiful and versatile appearance

Can be sanded and refinished up to 12 times

Softer and more sound-absorbent than tile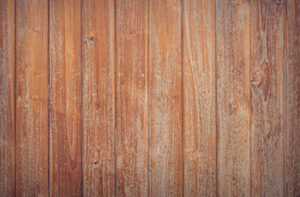 Cons of solid wood floors in a kitchen:
Prone to water damage

Susceptible to scratches and dents

Relatively high-maintenance

Higher cost than most other materials

Potentially longer and more complex installation
Still not sure if it's the right option for your home? Our Portland flooring experts are here to help you make the best choice. Find a detailed breakdown of solid hardwood floors below, as well as alternative materials for your kitchen.
Should You Use Hardwood Floors in Kitchens?
Solid wood floors come in two varieties: unfinished and prefinished. Prefinished solid planks are generally easier to install, as they can be glued into place instead of a nail-down method. They also tend to be more moisture-resistant.
Then there's prefinished engineered hardwood, which has a plywood or particleboard core with a thin top layer of solid wood. Engineered planks offer some water-resistance, and they're more affordable than their solid counterparts.
Many homeowners opt for prefinished hardwood floors in their kitchens because it stands up to water better than unfinished wood.
What Type of Hardwood Is Best for a Kitchen Floor?
Let's go over the best wood floors for kitchens. As we mentioned, unfinished solid planks offer the least moisture resistance and are generally not recommended. This leaves prefinished wood flooring and synthetic alternatives, like luxury vinyl and laminate. Here's what you should know.
Prefinished Wood Flooring
As long as you know how to protect hardwood floors in kitchens, prefinished planks can be a great choice. Engineered hardwood floors provide some resistance to moisture, though you'll want to make sure to tend to all spills, splashes, and splatters immediately.
The material is sanded, stained, sealed, and finished in the factory, making for smooth and flush installation. Prefinished hardwood flooring is uniformly coated, low maintenance, budget friendly, and comes in a variety of styles.
Luxury Vinyl "Wood" Planks
Luxury vinyl is a synthetic material that comes in planks (LVP) or tiles (LVT). LVP flooring is an affordable alternative to real hardwood, coming in as a close second in terms of homeowner favorability.
The floor-covering product can be engineered to look and feel almost exactly like solid wood. Modern vinyl floors feature photo-imaging of real wood species on the top layer, plus realistic textures of the grain. Also, they can last as long as 50 years.
One of the primary appeals of luxury vinyl is that it's typically 100% waterproof. This means it's ideal for kitchens and other moisture-prone spaces. If you love the look of wood plank flooring and want to install the same material throughout every room of your home, LVP is the way to go.
Laminate "Wood" Planks
Similar to vinyl, laminate is having a comeback in the flooring industry. Unlike sheet flooring of years past, laminate planks can offer an incredible resemblance to solid wood. The natural appearance and convincing textures have many people doing a double-take.
Laminate planks are durable, insulating, sound-absorbent, and more water-resistant than prefinished wood. Thanks to recent innovations, you can even find some waterproof options.
Hardwood Flooring Versus Tile in the Kitchen
Tile is also a popular flooring choice for kitchens, including stone, porcelain, and ceramic. Glazed porcelain is the most water resistant of the three, as the topcoat protects against moisture damage. Since it's kiln-fired all the way through, it's usually more durable and long lasting too.
In terms of resilience, tile floors are generally better for kitchens than hardwoods. However, they can cost as much or more than solid wood planks for both materials and installation.
If you love the look of eclectic mosaic tile, warm and breezy terracotta, sophisticated slate, or multi-tone marble but can't swing the price, consider LVT. Vinyl tile floors can be fabricated to mimic any natural stone or clay material and cut to virtually any shape or size.
Portland's Choice for the Best Wood Floors for Kitchens
The kitchen is undeniably a focal point of the home. It's where families cook, eat, gather, converse, and spend a considerable amount of time each day. Floor Factors appreciates the importance of functional, aesthetically pleasing design, especially in the hub of your humble abode.
Our locally owned Portland flooring store is committed to helping you transform your space. We carry a broad range of products, including unfinished and prefinished hardwoods, bamboo flooring, vinyl, and laminate. Additionally, Floor Factors is a one-stop resource for countertops, cabinets, and window treatments. If you need help selecting a material for your kitchen, our expert team is at your service.
Get in touch with us today!