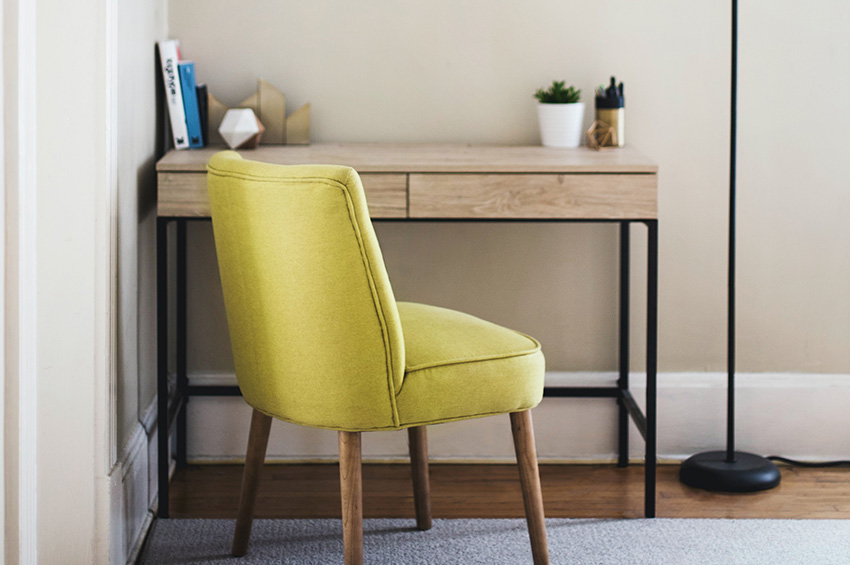 6 Hardwood Flooring Ideas for Home Offices in Portland
In the early spring of 2020, only about a third of corporate employees had the option to work from home. On account of the coronavirus pandemic, almost 100% were not only allowed but, in many cases, required to work remotely just a couple of months later. Looking forward, most office workers say they'd like to continue telecommuting one or more days a week, and a majority of employers plan to keep offering the option even after the pandemic.
With this in mind, many individuals throughout the Pacific Northwest and beyond are beginning to think more seriously about a permanent home office. If you've been working from your dining room table, couch, bed, or another less-than-ideal corner of your room, we're here to help you conceptualize a designated office space in your home—starting with the floors.
Home Office Flooring Ideas for Portland Remote Workers
If telecommuting is the new normal, why not spruce up your workspace exactly to your liking? Wood floors are an excellent choice for home offices since they aren't typically moisture-prone areas. Also, if you're working with minimal square footage, you might want to splurge on the real deal.
Need a little inspiration? Our Portland flooring experts rounded up six hardwood floor ideas for home offices.
Swing for Solid Wood
If you can spring for solid hardwood flooring, we recommend considering it for your new workspace. The material is sourced from real lumber, with each plank consisting of a single piece of wood. This type of flooring requires nail-down installation and is typically finished on-site.
While the process is a bit more involved than with glue-down planks, installation won't take very long in a small space. Solid wood floors can increase your home value too. If you're thinking about selling in the future, it'll stand out to prospective buyers, especially with more people working from home regularly.
Go Blond with Bamboo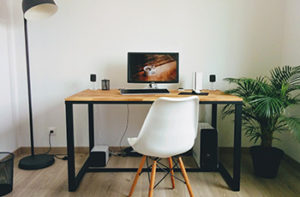 If you like the sunny yet elegant appearance of light wood flooring, you should definitely think about getting bamboo for your home office. Since the bamboo plant grows and replenishes itself exceptionally quickly, it's considered a sustainable alternative to traditional hardwood.
This eco-friendly flooring product comes in a variety of options, including solid, engineered, and strand-woven. Developed in 2007, strand-woven bamboo is made by processing and cross-linking raw shoots, then drying and pressing them into planks. The result is a notably durable and visually stunning material. Floor Factors is proud to offer affordable bamboo flooring in Portland, and we can help you select the right type for your office.
Embrace the Practicality of Prefinished Hardwoods
If you're on a budget, prefinished engineered wood flooring is another great choice. The material has a particleboard or plywood core and a thin layer of solid hardwood on top. Since it's finished in the factory and can be glued into place, you'll save time with installation.
The prefinished wood flooring products we carry at Floor Factors come in a wide range of real wood finishes. We're talking light species like modern maple, beachy oak, and versatile birch, as well as deeper, more exotic options such as mahogany, European walnut, and Brazilian cherry.
Go Luxe with Luxury Vinyl Planks
If you like the appearance of real wood but are open to a synthetic alternative, we recommend luxury vinyl planks (LVP). Unlike sheet vinyl of decades past, this innovative flooring product comes in wood-like planks, which imitate the finish and texture of solid hardwood.
The result is nearly indistinguishable from the real thing, and it comes at a fraction of the price. You can get luxury vinyl plank flooring in any wood finish. Plus, unlike solid wood floors, the material is usually 100% waterproof.
Have Fun with Finishes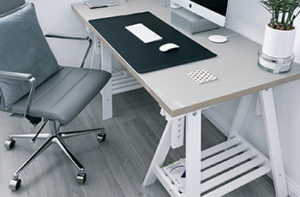 When selecting floors for your home office, play around with different contemporary finishes. As cherry and other dark, warm hues fade out, cool-toned finishes are at the forefront. Many flipped houses, new builds, and recently remodeled homes are embracing gray-tint and white-washed flooring. The essence of the wood species is still highlighted, only the planks have a cooled-down appearance free of red and yellow tones.
We're also loving the trend of matte wood flooring. As opposed to a glossy, semi-reflective sheen, matte floors have a flat finish. Since shiny topcoats are prone to dents and scratching, matte wood planks are relatively low-maintenance.
Get Playful with Placement
Another thing you can do to bring some personality to your office floors is to get creative with placement. Planks are usually installed parallel to the walls, but diagonal placement can really make a statement without affecting the color or finish. Similarly, herringbone wood floors are installed in a V-shaped pattern (like the bones of a herring fish) and can offer a striking yet chic effect.
Factors to Consider When Choosing Home Office Flooring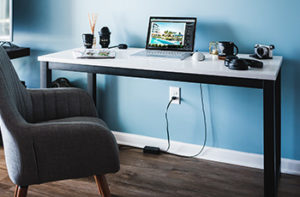 When choosing between different flooring materials, there are a few factors to consider. As we mentioned, home offices usually aren't subjected to direct water like kitchens and bathrooms, so you're probably safe to go with real wood. However, if you're converting a basement, mudroom, or another moisture-prone area into a workspace, you'll want to keep moisture-resistance in mind.
Also, if you're not home alone during your workday and have frequent Zoom meetings on the calendar, you'll also want to think about sound absorption. Some flooring products, like LVP, are more sound-absorbent than others, though you can always install underlayment to ensure better sound absorption.
Additionally, level flooring is crucial for home offices—especially if you use a roller chair. Older homes often have slightly unleveled floors, but this can usually be corrected before installation.
Where to Buy Hardwood Flooring in Portland, Oregon
Do you need assistance figuring out which material to use for your at-home workspace or help with any part of the installation process? Floor Factors is here to assist. As one of the best flooring stores in Portland, Oregon, we carry every type of floor-covering product mentioned above and then some. If you need countertops, area rugs, or window coverings for your office, we've got those too.
Not only that, but our in-house designers can help with selection. We have an impressive inventory of ready-to-go materials in our warehouse. However, if you want a custom product, we can help you order from our top-rated manufacturing partners. If you're not DIY-inclined, our experienced team would be more than happy to take care of demolition and installation as well.
Contact our one-stop-shop Portland flooring store today to get started.