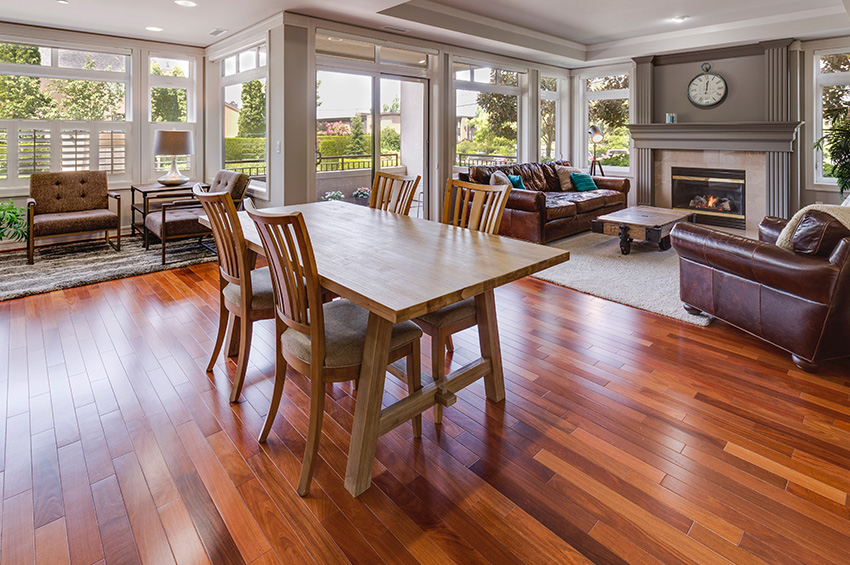 Engineered Hardwood vs. Laminate Flooring: Which is Better?
The draw to natural wood flooring is entirely understandable. From minimalist and modern to rustic and country-chic, it complements every interior design scheme and stands the test of time. However, hardwood tends to have a relatively steep price tag, so many homeowners opt for wood-like alternatives.
Both engineered hardwood and laminate can mimic the look of the real thing. To the untrained eye, the materials have an uncanny resemblance to unfinished wood, but which is better? The answer, of course, depends on a few factors.
Our Portland flooring experts are here to provide answers! This is what you should know when deciding between engineered hardwoods vs. laminate flooring.
The Difference Between Prefinished Engineered Hardwood and Laminate Flooring
The first thing to understand is that although prefinished wood flooring isn't always engineered, engineered wood flooring is almost always prefinished. Engineered wood floors are prefinished in the factory, and they're often confused with wood-grain laminate. This makes sense, as the planks can look quite a lot alike. However, they differ in a few key ways.
The main difference is that engineered hardwood is real wood. It's made of a mixture of hardwood and plywood and has a solid wood upper layer that looks and feels like its unfinished counterpart.
Conversely, laminate is a synthetic floor-covering product. Instead of solid wood, the top layer features photo-imaging of real hardwood. Many planks also have a realistic wood-like texture. The other primary difference is price. Laminate tends to be priced lower than engineered wood.
Is Hardwood Better Than Laminate?
The authenticity of prefinished engineered hardwood flooring is often the selling point. However, it's not necessarily better than laminate. For some, it's more about a wood-like finish and a budget-friendly price tag. To help you decide, we've compiled the pros and cons of each material below.
Pros and Cons of Prefinished Engineered Hardwood
Engineered hardwood is a gorgeous product and an excellent alternative to unfinished wood. Instead of being sanded and finished on-site, it's prefinished in the factory. This means it's much easier to install, as it can be clicked or glued into place instead of nailed down.
Pros:
More affordable than unfinished wood

Easy to install

Can be installed nearly anywhere in a home

Uniform, factory finish

A relatively low-maintenance product

Available in virtually any wood grain
Cons:
Can only be sanded and refinished a few times

Not 100% solid wood

Doesn't last as long as solid unfinished floors
Here at Floor Factors, we carry engineered hardwood in a broad variety of wood grains and finishes. We're talking cool-toned knotted oak, light yet warm maple, and trendy white-washed birch, as well as deeper hues like rich Mahogany, chocolatey Hevea, and Brazillian cherry.
Pros and Cons of Laminate Flooring
As for laminate, the material has come a long way from it's sheet flooring roots. The high-quality planks you'll see today look almost exactly like real hardwoods, and they come at a fraction of the cost.
Pros:
More affordable than many other materials

Durable and resistant to scratches, scuffs, and dents

Water-resistant

Low-maintenance and ideal for busy households

"Floating" planks click into place for easy installation

Available in numerous natural wood grains
Cons:
A synthetic product

Usually not as moisture-resistant as luxury vinyl tile
Since laminate is a water-resistant product, it can be installed anywhere in your home, including your kitchen, bathrooms, basement, utility room, and laundry room.
You can get it in all the same grains as engineered hardwoods. Floor Factors has virtually any wood finish you can think of, including blond hickory, dark-wash oak, scraped applewood, and gray-wash pine.
Does Laminate Last Longer Than Hardwood?
Both materials can last for up to 30 years. Just bear in mind the durability of a flooring product depends on the specific type of plank, the manufacturer, and how well the material is maintained. For instance, you'll probably get more years out of a waterproof laminate than standard moisture-resistant laminate—especially if you've got kids, pets, or an otherwise busy household.
Portland's Choice for Laminate & Hardwood Flooring
Here at Floor Factors, we partner with the best manufacturers in the industry to bring our customers premium products. As a locally owned one-stop-shop flooring store in Portland, we're proud to carry both laminate and engineered hardwoods in a wide range of realistic gains, colors, and textures. If you don't see what you're looking for, we can always help you custom order a product that suits your unique needs.
Floor Factors is celebrating 40 years in the industry. We're known in the Portland metro area as a helpful and knowledgeable flooring resource with unbeatable prices, and we're committed to upholding this standard for decades to come.
Contact us to get started with your next project.