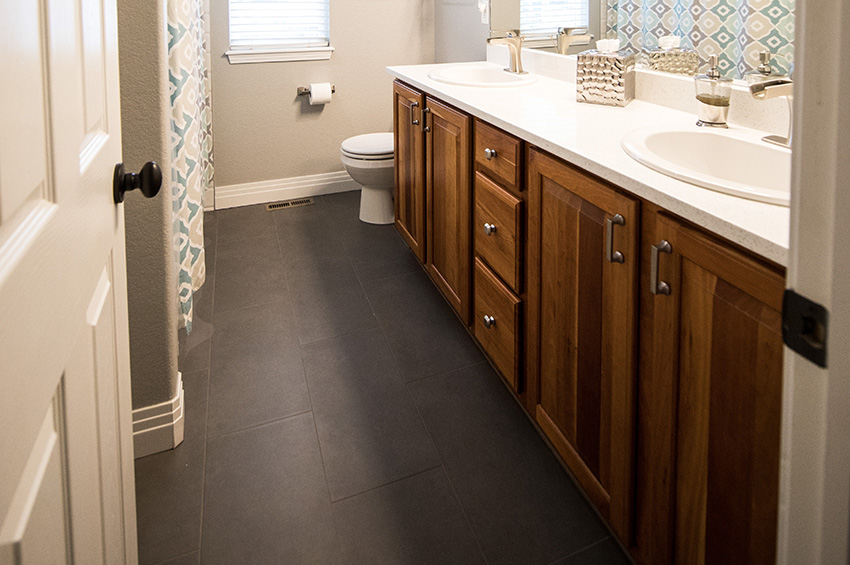 Is Radiant Floor Heating in a Bathroom Worth the Cost?
Radiant floor heating (RFH) is an age-old technology dating back to ancient Rome. Centuries ago, it was called hypocaust, a process of heating floors with fire gases from the rooms below. Unsurprisingly, modern radiant floor heating is much safer and more efficient.
In recent years, luxurious radiant floor heating systems for bathrooms have become a popular choice for residential builds and renovations.
So, are heated bathroom floors worth it? If you're asking this question, you've come to the right place. As a full-service flooring store in Portland, Floor Factors has the answers as well as all the info you need about RFH.
Cost of Radiant Heat Flooring for Bathrooms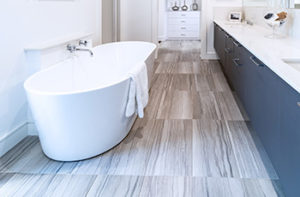 To find out whether heating bathroom floors are worth the investment, we'll first have to examine the cost. How much does it cost to have a heated bathroom floor? Professionally installed radiant floor heating typically runs between $6 to $16 per square foot.
If your bathroom is 5 feet by 8 feet (40 square feet), you can expect to pay between $240 and $640 for RHF. In many instances, the price will include removing your existing floors. However, you'll still need to factor in the cost of new flooring material.
The cost of radiant floor heating will depend on the system you get. There are two types of RHF: electric systems and hydronic systems.
Electric radiant floors use plastic mats, which conduct heat through copper wires.

With hydronic radiant floors, polyethylene tubing is installed under the floor and pumps hot water through the system.

Hydronic systems tend to be more budget-friendly than electric systems.
Pros and Cons of Radiant Floor Heating
Before committing to radiant floor heating — or any new flooring material, for that matter — we recommend reviewing the pros and cons. Aside from providing warm comfort underfoot, there are many benefits of radiant heating for bathroom floors.
Advantages of radiant flooring:
Effective and energy-efficient heating solution

Minimal energy loss

Evenly distributes heat throughout a room

Can save homeowners on heating costs over time

Versatile heating option

Can be installed in virtually any room

Works with all floor covering materials

Safe and easy to use

Typically turns on with a lightswitch-style knob
Disadvantages of radiant flooring:
Additional cost

Price of labor and new flooring material

Takes slightly longer to install than non-heated floors

Height increase

Tubes and wiring will slightly elevate floors
To decide whether installing heated bathroom floors are worth it, you'll have to consider a few factors. RFH can increase home values, but what if you don't have plans to sell anytime soon? You should also take into account the potential long-term cost savings on your electric bills as well as how much day-to-day use and enjoyment you'll get out of heated floors.
What's the Best Flooring for Radiant Heat Systems?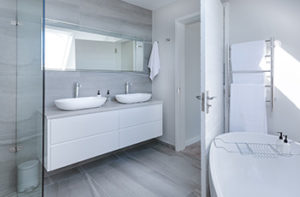 When it comes to radiant floor heating, you've got options. RFH can be installed underneath any type of flooring material, even carpets! That being said, you'll want to opt for a water-resistant material for your bathroom floors.
Luxury Vinyl Tile
Luxury vinyl tile (LVT) is a top choice for bathroom floors, whether you opt for radiant heating or not. The waterproof material is resistant to moisture, mildew, and mold. Additionally, LVT is the most realistic synthetic flooring material on the market — it can be manufactured to look just like real hardwood, stone, or marble.
Porcelain, Ceramic, and Stone
Porcelain, ceramic, and natural stone tile floors are excellent choices for bathrooms — each material naturally conducts heat, which will make your RFH system even more efficient. Additionally, you don't have to worry about tile expanding and contracting when it heats and cools, which can lead to cracks.
Laminate
Laminate flooring is an affordable option for bathrooms. It comes in a wide range of colors, designs, and styles, and it works well over both hydronic and electric floor heating systems. Similar to natural tile and luxury vinyl, water-resistant laminate isn't prone to expanding or contracting.
Floor Factors is Portland's One-Stop Shop for Home Remodeling Materials
At Floor Factors, we're experts in all types of flooring. We can guide you in selecting the perfect material for your bathroom and provide a consultation to help you decide on whether to get radiant heating. Not only that, but as your one-stop-shop home renovation materials store in Portland, we have everything you need to remodel a bathroom or kitchen. This includes countertops, cabinets, and window coverings.
Floor Factors is committed to offering the best materials and services for both residential and commercial spaces. In addition to premium products, we provide in-house design services and demolition and installation for our customers.
To get started with your bathroom remodel, request a free estimate or stop by our locally owned Portland flooring store in the Pearl District.