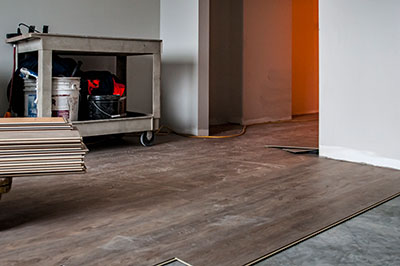 What's Best for Your Remodel – Laminate or Vinyl Flooring?
Are you remodeling your home or renovating your office? When the time comes to select a flooring material, you've got tons of choices, and it's understandable if you're not quite sure what to choose.
Laminate and luxury vinyl tile (LVT) are both synthetic floor covering materials that can mimic the look of natural wood and stone. So, what's best for your remodel –– laminate or vinyl flooring? Keep reading to learn about the difference between laminate and LVT flooring so that you can make the best choice for your next project.
Laminate vs. Luxury Vinyl Tile
At Floor Factors, we offer an impressive selection of both laminate and luxury vinyl flooring products that come in endless colors and styles. What's the difference between laminate and LVT? While LVT and laminate floors have a number of similarities, it's important to know how they differ before committing to either product.
Laminate is considered to be eco-friendly, whereas LVT is a 100-percent plastic flooring material made from UV-cured urethane.
Luxury vinyl floors are more moisture-resistant than laminate, so they can be installed in kitchens, bathrooms, laundry rooms, and other spaces that may get wet.
Properly maintained laminate can last for up to 30 years, but LVT is exceptionally durable and can have a lifespan of up to 50 years.
Luxury vinyl is considered to be slightly more realistic looking when compared to natural flooring, and it comes at a higher price than laminate.
All About Laminate Floors
Laminate floors come in the option of tiles or planks that lock into place for easy installation on their own or over existing floors. The floor covering material is made up of multiple layers, including a transparent top seal that covers a photographic image of natural wood or stone.
The layers underneath are made from compressed fiberboard and resin. With laminate flooring, you can achieve a modern, traditional, or trendy aesthetic at a fraction of the cost of real hardwood or stone. Laminate never needs to be waxed or refinished, so it's ideal for busy families or high-traffic commercial spaces. However, the material is not considered moisture-resistant, so it's crucial to control humidity levels to prevent expansion and warping.
Laminate flooring:
Is completely customizable and can be designed in any color, pattern, or natural finish
Can be made in various sizes of planks or tiles
Is easy to install and can be placed over existing floors
Is easy to clean and maintain
Is suitable for residential or commercial use
Can be installed in family rooms, living rooms, dining rooms, offices, entryways, garages, schools, medical facilities, hotels, lobbies, or retail stores
Lasts for up to 30 years
All About Luxury Vinyl Tile Floors
You can get luxury vinyl tiles or planks in a variety of sizes. They can be locked into place like laminate or glued down. The surface layer features a clear photo image as well as realistic textures of the natural material. The result is a flooring product that is virtually indistinguishable to wood, stone, or marble.
Luxury vinyl flooring:
Is entirely customizable with planks or tiles that look just like natural flooring
Can be installed easily on its own or over existing floors
Is easy to clean and resistant to stains and moisture
Can be installed in kitchens, bathrooms, laundry rooms, and other spaces that require water-resistant surfaces
Is suitable for use in virtually any other residential or commercial space
Is ideal for busy families with pets or high-traffic offices or stores
Is highly durable, scratch-resistant, and lasts for up to 50 years
Is Laminate or Vinyl Flooring Better?
Now that you're savvy on the pros, cons, and characteristics of laminate and LVT, you might be ready to decide which kind of flooring to buy. So, is laminate or vinyl flooring better for your upcoming project?
Both synthetic flooring materials are easy to install, clean, and maintain, and they can be made to look like real hardwood or natural stone. The variance comes down to slight differences in how realistic the planks look as well as lifespan, durability, water-resistance, and price.
Browse Laminate & LVT at Our Portland Flooring Store
If you're still not sure whether laminate or luxury vinyl floors are right for your upcoming remodel, stop by our Portland flooring store to see and feel the materials for yourself.
We work with the best flooring manufacturers, so if you don't find exactly what you're looking for in our showroom, we'll help you order custom flooring that adheres to your vision and budget.
Get in touch with us at Floor Factors to have all your flooring questions answered and learn more about the products and services we offer.