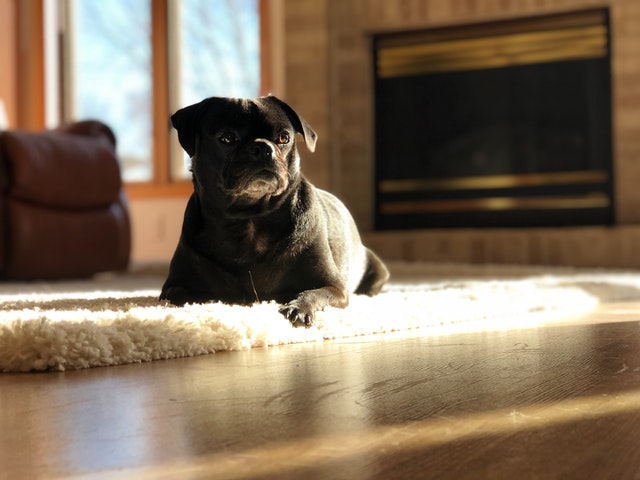 Dog-Friendly Flooring Choices for Your Portland Pooch
Selecting the right flooring for your home is an important decision for any homeowner, and as a pet parent, it's even more crucial! Fur babies are highly adored members of the family, but as you're well aware, their claws, paws, and fur can wear on your floors throughout the years. Keep reading to discover the best dog-friendly flooring choices for both you and your pooch as well as a few tips for cleaning up unavoidable pet messes.
5 Types of Dog-Friendly Flooring
When you install new flooring in your home, the last thing you want is for your pup (or other pets) to ruin your recent investment. Hardwood and carpet are known to be less pet-friendly compared to other floor covering materials because they are susceptible to dirt accumulation, scratching, and moisture damage. When you buy flooring, you'll want to get a product that is scratch-resistant, stain-resistant, comfortable, and durable. So, what is the most durable flooring for dogs, and what types are best for pets overall? Check out five options below.
1. Luxury Vinyl Tile
Luxury vinyl tile (LVT) may be the best choice when it comes to dog-friendly flooring. The 100-percent plastic material is exceptionally durable, scratch-resistant, waterproof, sound-absorbent, and lasts for up to 50 years with proper maintenance. LVT comes in various sizes of planks and tiles and offers the look of natural flooring materials such as hardwood, stone, and marble.
2. Laminate
As a close second to luxury vinyl tile, laminate is another pet-friendly flooring material that we highly recommend. It is considered to be more stain-resistant and durable when compared to other flooring materials, and is resistant to scratches and scuffs. Laminate mimics the appearance of real wood and stone flooring much more so than LVT and it's less expensive. With proper care, it can last for up to 30 years. Just keep in mind that laminate can be slippery for dogs, so we recommend getting textured planks or tiles.
3. Stone Tile
Not only are stone tile and porcelain tile incredibly durable and timeless floor covering products, they're also ideal for pet owners. While glazed ceramic tile can be slippery for pups, most porcelain and stone has enough texture on the surface to provide good traction. The texture also helps hide scratches, and the material is low-maintenance and easy to clean. One thing to consider with porcelain and stone tile is that the material is cold and hard, which may not be comfortable for dogs. However, getting mats and area rugs is a great solution, and something you'll likely want to do whether or not you have pets or use a radiant floor heating system.
4. Bamboo
Despite popular misconception, woven bamboo is actually one of the most dog-friendly floor covering materials you can get. Not only is bamboo a renewable and sustainable natural flooring product, but it is also highly durable and resilient with a longer lifespan than laminate. While bamboo is easy to clean, sturdy enough for pet traffic, and more water-resistant than hardwoods, it is still vulnerable to moisture damage. If your pooch is potty-trained, bamboo is a great flooring option.
5. Cork
Cork is another excellent choice. The material is relatively soft when compared to other types of flooring, so your four-legged family members will be comfortable when they lie down. Cork is less prone to scratching than hardwood flooring, and it is water-resistant, sound-absorbent, and quiet underfoot. It's also a naturally antimicrobial material. This means it will inhibit the growth of mold and bacteria. While it's more scratch- and moisture-resistant than some other types of flooring, it is not entirely immune to pet damage. However, with a potty-trained pup and proper maintenance, cork is considered to be one of the most dog-friendly flooring materials on the market.
Cleaning Up Pet Messes
If you're a pet owner, you know that occasional messes are unavoidable. While we recommend getting a dog-friendly floor covering material, thoroughly cleaning up pet messes is one of the best things you can do to maintain the quality of your flooring. For pet accidents, start by blotting up the spot as soon as possible, and follow with a spot-cleaning solution that is specifically made for the type of flooring you have. For dirt and dog hair, vacuum and sweep your floors often, and mop as needed.
Visit Our Showroom in Portland
Floor Factors is your resource for pet-friendly flooring options. The best flooring for your home depends on your vision, budget, and the unique needs of your household. We carry luxury vinyl, laminate, stone, bamboo, and cork as well as many other floor covering products. If you're not quite sure what kind of flooring to get for your home, stop our showroom. We offer complimentary in-house design consultations and have thousands of flooring products you can see – and feel!